The Reality of Our Work
For as much as we embrace the spring as a time of renewal, beauty, and hope, we can't ignore the reality of our agonized Earth.
This week our crew was reminded of this as we experienced the smoky haze lingering over the fields and forests of the Horn Farm, coupled with the faint smell of fire. A snow-parched winter followed by an exceptionally dry spring has fueled unprecedented wildfires in eastern Canada: setting records in Nova Scotia (a typically humid coastal environment) and subjecting Quebec to its worst early-season forest fire outbreak ever.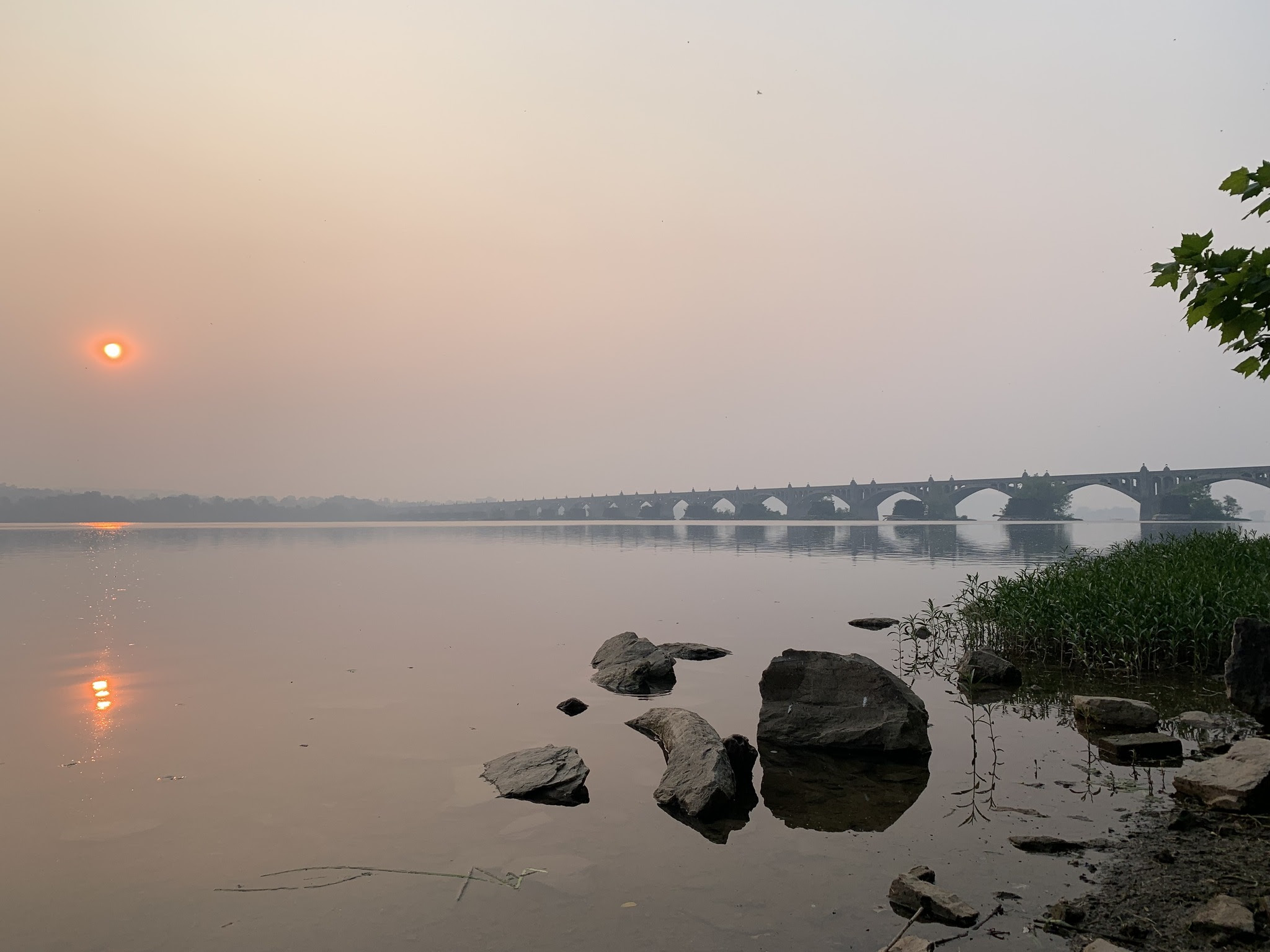 Just as the health of our small local streams connects to the health of the whole Susquehanna River, this event is another reminder of how ecosystems and their struggles are not detached, nor are we. Impairment and destruction in one system negatively impacts its neighboring environment–locally, regionally, and globally. While we're spared of the fires, our area is experiencing poor air quality that directly affects the health of our community, especially farmers and other outdoor workers, and those with respiratory conditions like asthma and cardiovascular disease.
The haze will clear in time, but we can no longer afford to write off events like this as temporary blips in an otherwise stable biosphere. Human-fueled climate change is projected to continue shrinking our winters and warming our springs, creating the conditions that spell disasters both human and ecological. This is especially alarming in a place like Canada, which houses North America's boreal biome. Boreal forests contain the highest amounts of stored carbon, releasing 10 to 20 times more planet-heating carbon pollution per unit of burned area compared with other ecosystems. Increasingly extreme forest fires in our northernmost forests–the fastest warming biomes on earth–makes the imperative that we reduce human-generated CO2 emissions all the more pressing.
Nature's need for healing is always apparent in our work as land stewards and educators, but the events unfolding of late, while staggering, have been activating. This is why we plant and restore so passionately: because our world needs us to build back its resilience, and restore balance to our relationship. The world needs us to repair what we've broken.
Beyond sobering our consumption, plants are some of our greatest allies for absorbing excess carbon from the atmosphere, combating heat with cool microclimates, retaining water, and providing habitat refuge as ecosystems continue to waver. We're committed to implementing and teaching ways of growing food, restoring land, and living our lives that contribute to, rather than extract from, nature, because we know that the health of future generations–human and otherwise–depend so deeply on the choices we make now.
Sending our best wishes to everyone in our bioregion and beyond–stay safe out there!
---
As we spend these days breathing slowly and bearing witness to the land's struggles, we're grateful for the beauty and lessons of resilience that nature shares with us. This month, Community Engagement Coordinator Andrew Leahy captured some of her finest moments. Spring is in full bloom at the farm, despite the incredibly dry conditions. Check out these photos of our Ecological Garden Demonstration Plots, designed and planted by last year's Ecological Gardener Training Program students.
Interested in digging deep into reviving local landscapes?
Our waitlist for the 2024 training programs is live. Sign up and be the first to know when registrations for next year open this summer!
---

Horn Farm CSA: The Harvest Has Begun!
This week marked the start of the Horn Farm CSA! We welcomed back returning members as well as a few new families. This week's harvest included lots of leafy greens and even cherry tomatoes from the Kilgore Family Farm's high tunnels.
With the early spring drought parching our soils, we are keeping a close eye on our water resources on the farm. While we conserve as much as we can by mulching, watering in the evening, and reducing how much we irrigate overall, we are still anticipating impacts, and even crop failures, from these unusual conditions.
We are grateful to be supported by a community that understands the risks and challenges of farming. A big thanks to our CSA members, as well as our regular patrons, for your commitment to our work and mission.
---

Riparian Rangers & Other Volunteers Needed
On Saturday, June 17th from 10am to 12pm, we're seeking volunteers to help us check on hundreds of trees in our multifunctional riparian buffers.
Volunteers will help us perform general upkeep including: checking and marking trees, removing bird nets, righting and stabilizing tree tubes, clearing non-natives, and planting new trees as needed.
And, you'll get to learn about perennial plants, ecology, and ways to restore local waterways.
---

Functional Movement for Everyday Life
Summer is a great time to get your body moving! Informed by various tasks we might do in the garden, around our house, or just while living life, this new workshop explores natural movement, breathwork, specific body part exercises, functional/dynamic movements and restorative stretches.
The main goal is to begin to develop a new "movement lens" and to build physical resilience by moving, breathing and observing. Since it is our first run of this class, we invite you to join us at no cost and help us shape the design of our future Movement class curriculum so that we can authentically meet people where they are at with appropriate physical challenges.
Throughout the class we aim to cover a variety of objectives such as:
A chance to connect with the natural environment
Opportunity to develop tools to become more resilient movers
Honing a ground up approach to strengthening and mobilizing ankles, knees, hips, back, and shoulders
Performing dynamic movement groupings that get hearts rate up and blood flowing
Mastering breathing cues that allow for efficiency and ease and promote energy and wellbeing
Implementing restorative stretches that address tightness and soreness so we can keep moving well day after day
Join us for our Functional Movement for Everyday Life on July 27th and August 17th at 5:00-6:30PM at the Horn Farm Center!